Startup Sourcing
With our Startup Sourcing service, we're helping corporates, startup accelerators and investors to find startups that match their search criteria in terms of industry, business stage and location. We are open to any other preferences our clients might have.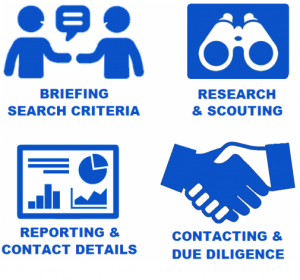 During the research process we access our own proprietary startup database, but also leverage our Europe-wide network and our access to many other startup databases and sources.
The result of each startup sourcing activity is an exclusive research report tailored to the requirements of our clients, where we seek out the best suited startups for a potential investment, collaboration, or acquisition.
If you are interested in working with us regarding our startup sourcing services, please contact us here and we'll provide you with a concrete proposal.
Consulting & International Projects
In addition to our market intelligence and startup sourcing services, we're occasionally providing trends and innovation consulting services for corporates and governmental organisations.
If we see a good fit and an opportunity to add value, we're also open to contribute to EU-funded and international projects as dissemination partners, startup ecosystem experts and event organisers.
Our team has extensive experience in the participation in EU projects, dissemination tasks, support regarding proposal writing and contribution to several other project aspects and work packages. 
---
If you are interested in working with us regarding our consulting services or our potential participation as consortium partner for a Horizon2020 project or a similar opportunity, please contact us here.